A January Day Trip to Brighton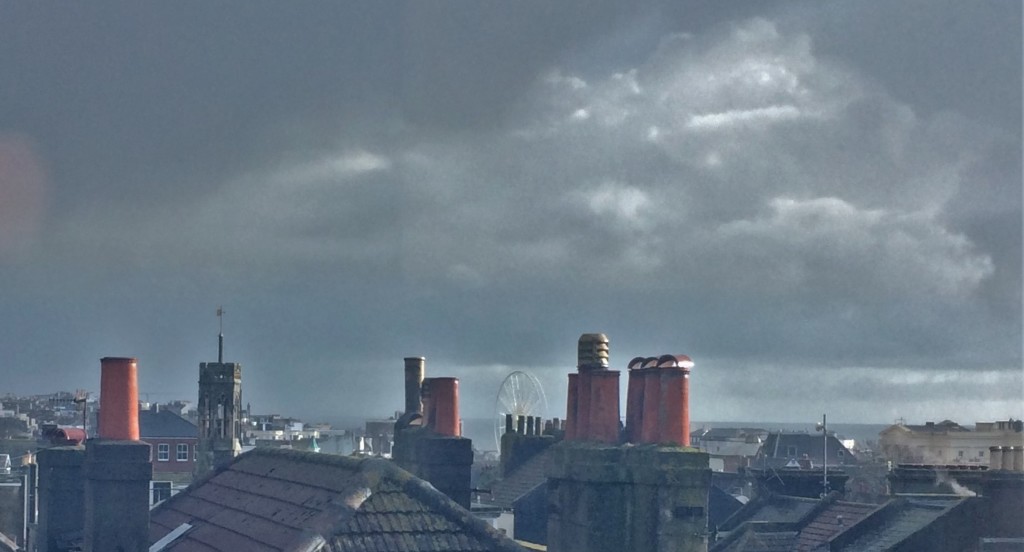 A cold, wet, windy, mid-winter day, maybe not everyone's idea of the perfect time for a day trip to the beach. However, there are advantages to visiting popular tourist destinations out of season and it is nowhere near as bad as the description in Neil Gaiman's 'My Last Landlady'.
I had a challenge, my daughter wanted a new bookshop preferably with a cafe, an old bookshop, a shop full of antiques and curiosities and a particular tea rooms. My husband had asked for a photo of the pier and I wanted plaice and chips by the beach.
So rough itinerary in mind we set off on the train. After Sydney trains this was bliss, on time, comfortable and quiet.
Walked directly down from the station to the clock tower. Last time we were there the clock tower was covered with clothing, I'm sure there was a perfectly good reason. Today however it was obviously warm enough to not need to be wrapped up. Decided to head into Waterstones bookshop for new books and coffee. Several floors of books did not disappoint and we soon had a collection of books. On almost the top floor is a small café with a cheerful barista who was concerned that our request for double shot coffees might make them too strong (they were just how we like them). Entertained whilst there by the conversation on a nearby table. Two men, one a theatrical director by the sound of it, they were quite amusing and not at all worried that other people could hear the conversation and people on surrounding tables even joined in at times. Almost felt like we were saying goodbye to friends when we left.
https://www.waterstones.com/bookshops/brighton-clock-tower
Revived with our caffeine fix and books we set off again to find North Laine.
This is one of our favourite areas of Brighton and one of the things that makes Brighton special. It is actually several streets with lots of smaller shops, the mix is definitely eclectic and quirky.
Kensington Gardens is possibly our favourite street and a visit to Snoopers Paradise is essential. It is a collection of sellers under one roof, vintage, retro, junk, or just unique, could spend hours and not see everything in there.
See http://northlaine.co.uk for info.
No shortage of cafes here but I was on a mission, plaice and chips by the beach. So eventually dragged ourselves away and headed to the seafront near the pier for the all-important photo.  It seems to now be referred to as Brighton Pier, though we knew it as Palace Pier.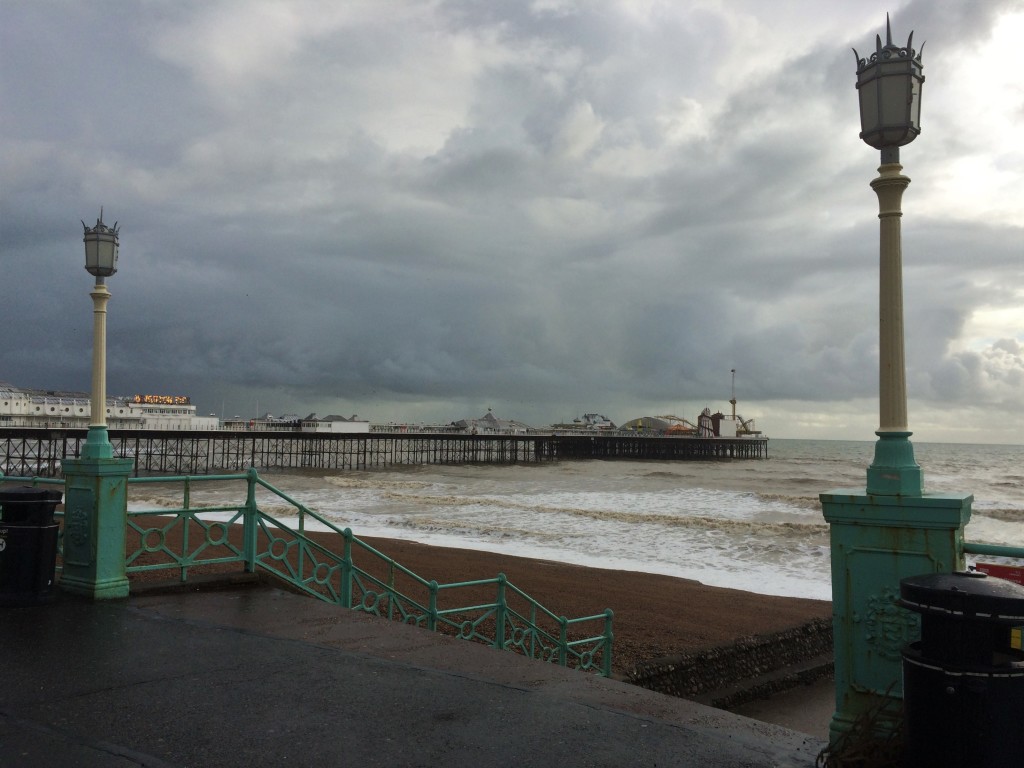 Then walked along by the arches, this area was done up some years ago and now has lots of small galleries and cafes. Today it was almost deserted and only a few were actually open. Expect it would be packed in summer.
Our lunch by at beach was at Regency Seafood, we had been here before with a friend so knew we would get good fish and chips and could look out at the sea. We sat snugly in the warm and dry watching the people outside struggling with umbrellas as a squall came through. Not sure about the huge viewing tower being built right on the beach here. It will probably attract people for the great view from the top but it looks ugly from the ground at the moment.
Now over full of fish and chips we walked up to Churchill Square but rather than go in to the modern shopping centre we ducked off to the side towards the Lanes. Came across an old bookshop by chance and it was perfect. Colin Page Antiquarian Books, 36 Duke St. Little rooms and alcoves packed with old books, spiral staircase and more piles of books on the floor.
Had a thoroughly enjoyable time browsing and both found more books to add to our collection. I got a copy of Le Morte D'Arthur by Sir Thomas Malory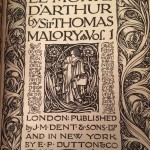 with the name M. Hodgart, Pembroke College, Cambridge, 1935, written inside the cover.I guessed that M Hodgart was studying English Literature as there are pencilled notes throughout the book. On further research when I got home I found M Hodgart had been a Lecturer at Cambridge University, an author and Professor of English at Sussex University. Due to an interest in the Arthurian legends I have wanted this book for a long time but having a book with a little history of its own really adds to it. Only snag was we could only find volume 1 and as the bookshop own said once things get separated it is hopeless but if it turns up he will hold it.
Time for tea and the request had been to go to Blackbird tearooms, I had a pretty good idea where that was and it was not far from our bookshop. Still busy even in mid-winter but space for us upstairs. Great vintage décor and atmosphere, nice scones and liked the touch of handing me a lantern to find my way out to the toilets in the dark. http://www.blackbirdtearooms.com/
Final list for the itinerary we headed into the Lanes.
Old narrow cobbled street and in summer packed with tourists. Today there were plenty of people about but room to move and browse. It was quite dark by now but the lights in all the shops and reflections on the damp cobblestones added to the appeal. Found an amazing shoe shop with unique locally made shoes, which unfortunately I can't remember the name of, plus lots of other interesting places. As usual got a little lost and went round in circles a bit but that is all part of the fun.
http://www.visitbrighton.com/shopping/the-lanes
Slowly headed back to the station via some of the North Lanes again which were still busy with people heading to bars and cafes. A little wait at the station for the next train but we were able to sit down with our bags of books and other goodies and listen to the tinkling of a piano in the background. One of those pianos that are put in public places for anyone to play, the man playing wasn't bad so it was quite pleasant. All in all a good day.
For Map and info on the areas we visited see
http://tourism.brighton.co.uk/shopping/map.asp