Been meaning to get to New Zealand for 30 years, finally decided no we will never have the time or the money so lets just book it and go.
Auckland
Flight out on Christmas day (not my original intention).  Anyway it was ok, flying Emirates, nothing special on flight but when we arrived in Auckland there were a few people at the airport in Christmas hats, some small children and one Grandma dressed as elves (or maybe they normally dress like that in New Zealand).
Picked up sim cards for phone and Ipads from Telecom shop at the airport (worked well, one $20 sim for each ipad lasted us the 3 weeks).  Took shuttle bus to our hotel.  Best Western President Hotel, very central and very reasonable price,  didn't look flash but spacious enough double suite.  Now to see Auckland, walked to The Occidental .  This place has a beer menu with over 100 beers  – I'm staying put …oh and they did good food too.
The main streets of Auckland were very much like Sydney, even a lot of the same shops but there were hints that we were in New Zealand, a vacant block, let put a crazy sling shot ride onto it.  Liked the area by the quay, walked around looking at yachts and stopped for coffee.
Our Campervan – Boxing Day, used discount taxi's to get out to Tui Campers (fixed price taxi and cheaper than other companies plus George, our driver, was great).  Our van  (a Trail Blazer 4 berth) looked huge, after being carefully shown how to work everything…."there's all your switches, you'll need those"….we were off.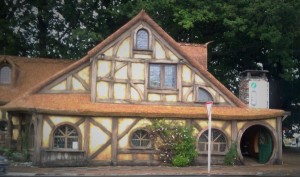 First night in our van was at Matamata (Hobbiton), wet and a bit chilly but had some good fish and chips and checked out the visitor centre,which has had major extensions and alterations since the Hobbit movie.   Our choice of campsite by a park maybe wasn't so great when some people decided to use it for a drinking, shouting and spinning cars session. However after one of them crashed their car just down the road the police came and everything went quiet.
Hobbiton Movie Set Tour. 
When I booked this online I thought it is a bit pricey, however it was fabulous and I would happily pay to go again. 44 Hobbit holes and each with so much detail. It is really very pretty plus of course the tour guide (Toby) was telling us stories such as how they replaced all the leaves on certain trees to make them look right etc.
Fortunately  it was a lovely sunny day and we were very ready for the mug of ale or stout in the Green Dragon at the end.  We sang the song that Merry and Pipin sang in The Return of the King, funny how no one else joined in!  Dressed up in some of their costumes too, ok I was the first (always ready to embarrass my family).  Gareth and Siobhan joined in then Keith and a couple of others got into the spirit as well.
"Oh you can search far and wide, you can drink the whole town dry, but you'll never find a beer so brown. You'll never find a beer so brown, as the one we drink in our home town.
You can keep your fancy ales, you can drink them by the flagon, but the only brew for the brave and true comes from the Green Dragon".
Then we had to see the Hobbit movie 2 on the same day so next stop was Tauranga.  Lovely caravan park by the water (Tauranga Tourist Park), bus into the town, explored, had food in one of the many bay side restaurants on The Strand then off to the cinema.  Brilliant movie though we were a bit worried Peter Jackson was going to kill the dragon off with one movie still to go, however Smaug survived to meet his proper end in movie 3.
The following day we had lunch and a walk  by  the beach at Mount Mauganui, it is a narrow peninsula on the East Coast with beach either side and an extinct volcano at the end. Unfortunately everyone else seemed to have had the same idea and this was one of the few place where we really had to drive around to find somewhere to park the van.
Considered driving down the coast to Whatakane in the hope of doing a trip out to White Island (an active volcano) however at about $1000 for the 4 of us it was too much and the weather forecast didn't look good. So we decided to head down to Rotorua.  Our evening campsite was our first by a lake, Lake Okareka, just a parking spot with a toilet, BBQ and picnic table, run by the local council with an honesty box to deposit a small fee.  Light rain at first and we had a pleasant walk along the lake but overnight the rain increased.

Rotorua.  I was ready for the sulphur smell, expecting hot steamy stuff and bubbling mud, what I hadn't expected was the architecture to be so fascinating.  New Tudor I have read it described as, several grand buildings with lots of timber.  Especially the Museum (once the Bath House).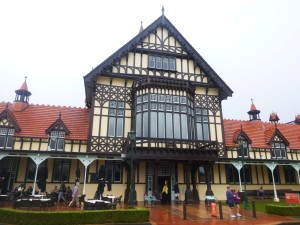 Rain was now very heavy and the paths around the Government Gardens (thermal area) were flooded.  Still went for a walk and got soaked in spite of our wet weather gear.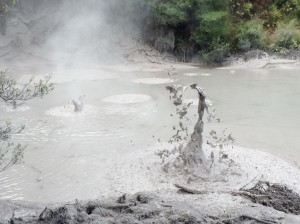 Rain eased in the afternoon and we stopped at the Waiotapu Mud Pools and then at  Waiotapu Bridge Hot Springs.    There are some wooden steps down to the water from the bridge but otherwise it is just a natural hot stream (& free).  Loved it, chatted to some locals  as we sat soaking in the hot water. They asked how we knew about it – thanks to the Rankers app for guiding us here.
Lake Tau

po
Stopped briefly in the town before driving down the east side of Lake Taupo to a small simple caravan park where we were right on the edge of the lake (Motuoapa Motor Camp).  Lovely spot, could have spent a lot more time in this area exploring.  Especially exploring the huge lake and the rock carvings etc.
However by the next morning the weather was turning bad on us again.
Drove towards Mt Ruapehu, an active volcano and ski area, with the hope of going up.  By the time we got to Whakapapa the weather was pretty bad and we were told the cafe and chairlifts were closed due to the weather.  However after talking to a very helpful person at the information centre we decided to just do the short walk from Iwikau Village to Meads Wall.
According to our Lord of the Rings Location book this was one of the areas used in the Lord of the Rings Film for the Emyn Muil and Mordor with Mt Ruapehu  as Mt Doom.  Weather was now very bad, cold plus swirling fine rain making visibility poor.  No views, couldn't even see the mountain above us but it really added to the ominous atmosphere with dark shapes looming out of the mist.  Just like the same place was in the movie – perfect.
Another great drive on through hills and over rivers on state highway 4,  took us past a good view of the Makatote Viaduct, I read somewhere that the construction of this was challenging, can't think why!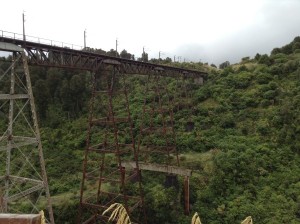 Our next campsite was on the West Coast at Wanganui.
Decided we all needed hot showers so booked in the Top 10 Holiday Park, this was the most expensive park we used but couldn't knock their facilities.  Not only did we have a nice site right on the river but the swimming pool was a good size and perfect temperature and we were able to book their private spa for the 4 of us.  Oh and mustn't  forget the friendly goat.   Really noticed the weather change, wrapped in winter wet weather gear in the morning at Mt Ruapehu but warm enough for a swim at Wanganui.
Wellington
Another lovely drive, some flattish farmland but always hills in the background, a section with sea on one side of the road and mountains on the other and suddenly you are by Wellington harbour which is absolutely beautiful. Views from Mt Victoria are fabulous.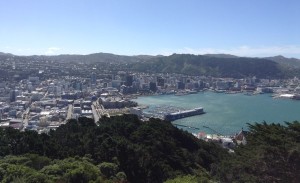 As well as the view we were on a mission to find some more Lord of the Rings sites.  The "Get off the Road" scene where the hobbits hide from the black rider was filmed here.  Gareth and Siobhan found the perfect spot to re-enact this and with a little bit of work on the computer afterwards Gareth added the black rider.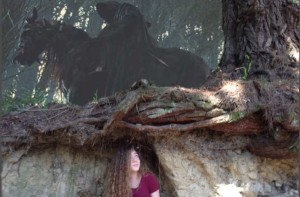 Our campsite in Wellington was right on the harbour, basically a carpark but with all the usual campsite facilities, (power, water, showers etc). Easy walk into the city centre and $50 a night, perfect, but just as well I had pre-booked this one as there were no vacancies.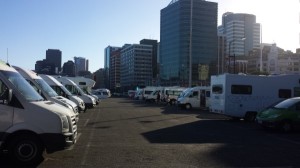 New years eve we spent in Molly Malones (an Irish pub, which as it happened was frequented by a couple of the cast during the filming).  Anyway it was a good place to celebrate the New Year with good food, and a live band. No official fireworks in Wellington this year but as we walked around afterwards there were a few private ones.
New years day and time to leave the North Island, the timing of our ferry was one of the things I had tried to change but ferry bookings became scarce after their main large ferry lost a propeller (does this instil confidence?).  So wondering if we should be carrying lifejackets and a spare propeller  we drove our camper into the hold of the ferry.
I've been told the ferry trip into Picton has some spectacular scenery.  However the weather turned on us again with rain obscuring the view.  It also got quite cold and windy, (our first taste of South Island weather!)
 Picton – Blenheim – Wairau Valley
Had originally planned to head out to Nelson but as it was raining quite heavily when we arrived in Picton we decided just to head south-west  to give us more time later to hopefully explore somewhere in better weather.
Fairly straight road initially from Blenheim with lots of vineyards and wineries but the mountains are never far away.
Stopped briefly at the Wairau Valley Church and noticed that out of only a handfull of graves several of them were for people who had drowned in the Wairau River, including one especially sad one where a man had drowned trying to save the person who was buried next to him.  Made a mental  note not to go swimming!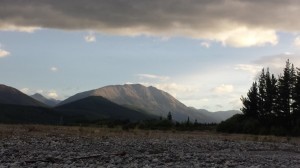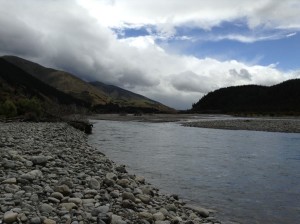 The Wairau River is one of New Zealand's longest rivers,  we camped beside the river that night, a little further on at Kowhai Point.  This is a Dept of Conservation site, there is a long drop toilet (composting toilet) but otherwise it is just you and nature.  A break in the rain gave us a chance to explore around the river, beautiful clear water but fast flowing in the middle and you could see how it must rise at times and cover all the area of rocks that we were walking on.
The next day we continued to head South West , dark tree covered mountains on either side and wispy clouds rising like smoke or steam.  Another beautiful drive as the route twisted around the mountains.
Lunch stop was at Greymouth which is a large town (by South Island standards), and then down the West Coast. Our aim was to get to the glaciers the following day but the weather forecast was looking increasing poor.  So bad in fact that by the afternoon all the glacier tours for the next day were being cancelled.
As the rain settled in again we stopped for the night at Ross.  A small settlement now which had been a thriving gold mining town in the 1800s.  The old Empire Hotel has a small area for a handful of campervans and some cabins, pretty basic and a bit run down but very cheap and had everything we needed.  Including some friendly locals in the hotel, dressed in the obligatory gumboots and shorts.  We loved this place, quiet, friendly, good food, a nice drink and musician friendly.  There were various instruments around the bar and they were happy for Gareth to play them.
Next morning in torrential rain we heard that the Haast Pass was closed.  It had been closed at night since a rock fall but now it was closed until further notice. So if we continued to the Glaciers not only were there no Glacier tours but we wouldn't be able to continue south towards Queenstown.  The advice we were getting was that there isn't another route, no option but to wait and see.  So Keith and Gareth found a detour….. by going back up to Arthur's Pass and driving across to the other side to the Island then back across to Queenstown!  This is a pretty serious detour, over 800 km of mainly steep windy road which would take about 12 hours in good conditions.  Crazy!  I checked the NZ transport Agency site for road alerts in case Arthur's Pass was closed, there were warnings for it, "Strong Winds, Care required  by Caravans, Campervans and other high sided vehicles.   So this is a good idea is it?
Arthur's Pass

(for the first time)
Ok this is spectacular, mountains, mountains and more mountains, lots of waterfalls and the road very steep in places. Passed under a rock fall shelter with water gushing over the side as if we were under a waterfall, over rather extreme bridges and lots of single lane bridges.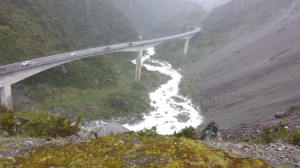 Stopped at a the lookout after driving over the Otira Viaduct (had some cheerful name like Dead Man's Bend or Devils Staircase) and had our first encounter with the cheeky Kea.  Kea are the worlds only alpine parrot, they are described as omnivores and they really do seem to eat anything.  That includes rubber, so car tyres and windscreen wipers are likely to get attacked!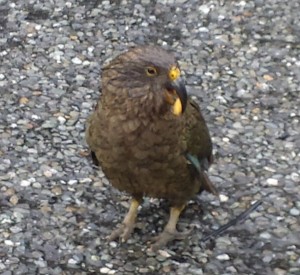 Once over Arthur's Pass the weather improved dramatically and we stopped for a walk at Cave Stream Scenic Reserve.  Which has a cave with a stream running through it (think the name might be a clue), you can go through the cave if you feel so inclined (& are suitably prepared). We settled for just a walk, there are a couple of tracks to choose from winding around limestone rocks with lots of flowers, very pretty.
Finally on the Eastern side with nice weather, but poor Gareth was feeling really unwell with a flu/cold,  we were driving through farmland and very small settlements, not much in the way of shops however we tried a corner store at Glentunnel, a real old fashioned corner store that had a little of everything, including cold and flu tablets.
We stopped at the Methven, one of the main towns in the Mt Hutt ski area.  Unbelievable contrast in the weather, here it was warm and sunny, we ate a takeaway dinner outside and drove on, finally stopping for the night at Geraldine. Still warm enough at 8pm to sit outside for a drink and snack (well covered in insect repellent). We used a caravan park again for convenience and to be able to keep the many electronic devices charged. Grumpy's Retreat n Holiday Park, which was excellent value for money, plenty of space all the facilities, games room, sports equipment and playground even had tennis courts and a small swimming pool , free WiFi and Grumpy himself wasn't at all grumpy, very cheerful and friendly in fact. We chatted to some New Zealanders and they commented that  this was what most caravan parks used to be like.  Geraldine is in a farming area and while the scenery isn't as spectacular as some places it is a pleasant little town and quite busy as there was a market on the Saturday.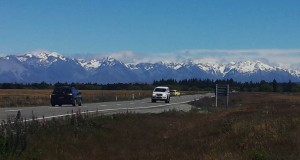 Heading inland again from Geraldine we found we were heading towards snowcapped mountains (Two Thumb Range I think they would be).
Lake Tekapo & Lake Pukaki
Coming round a bend we get views across the stunning turquoise water of Lake Tekapo.  Photographs really can't do the place justice, the colour is unreal.  Apparently it is due to fine particles of rock from the glaciers that feed into the rivers that flow into the lake.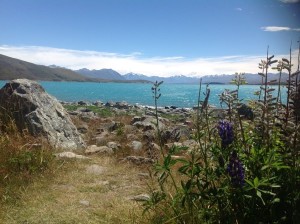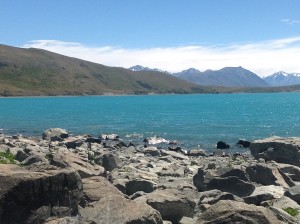 For our lunch stop we moved onto Lake Pukaki, still the same stunning colour, larger and with views of Mt Cook.  Absolute magic and the location of Lake Town in the Hobbit movies.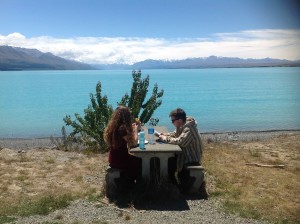 Leaving Lake Pukaki we passed by Twizel (the town is actually just off the road).  This was the area where some of the big battle scenes in Lord of the Rings (The Battle of Pelennor Fields) were filmed, apparently most of the town were involved as extras.
Drove through yet more mountains, as Siobhan commented maybe it would be easier in New Zealand to just mark the roads that aren't scenic drives.
Passing alongside another long lake (Lake Dunstan) we stopped a few times near Cromwell to view the Kawarau River (River Anduin to LOTR fans).
Queenstown
Very easy to see what this place must be like in the middle of the ski season, definitely had a ski resort feel to it.  Still busy in summer  and one of the few places I had pre-booked a camp site before arriving.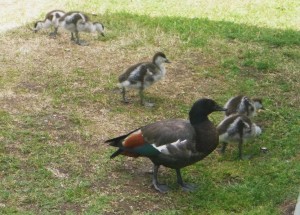 I'd chosen Queenstown Lakeview Park for it's proximity to town and certainly it was an easy walk. However it was expensive and the camper parking was very tight, squeezed in like a supermarket car park.  Plus everything was extra, no free showers here.  Fortunately the position and a friendly family of Paradise Shelducks made up for this.
Gareth was unfortunately quite unwell by now and unable to enjoy Queenstown fully but did manage to meet up with some Russians he had met on the Ferry.  It's an interesting town, we thoroughly enjoyed walking around exploring it. Some good buskers by the waterfront, some quirky alleyways and we found some interesting shops and places to eat.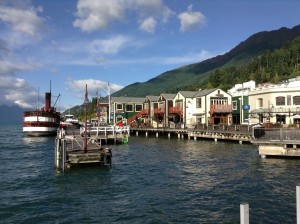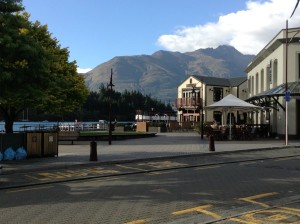 Whilst in Queenstown Siobhan and I took the opportunity to go riding with Dart Stables. They picked us up in a mini bus to take us to the stables at Glenorchy. Just the drive out there was spectacular.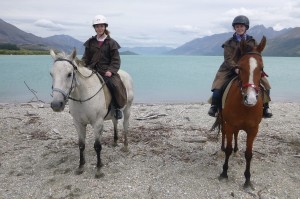 Our ride was appropriately called "Wild River Ride", there was plenty of deep river crossings and at one point we had to turn back as all the rain had made the river too deep and fast. Our horses, Baxter and Danny were great and the scenery fantastic (more LOTR sites as we were riding along the bottom of the Misty Mountains). Absolute magic.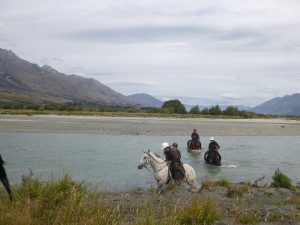 Got back from our ride much later than we had expected and drove on to Te Anau where we booked into the Lakeview caravan park.  Pleasant spacious park and sure enough we had lake views (through the rain).  Next morning was an early start with a coach picking us up to take us to Milford Sound. It was still raining and the driver gave us a rather over-long commentary which got  bit repetitive , however once we got on the boat it was all worthwhile.
Milford Sound
Milford Sound had been on my Must See list and was certainly  worth it.  In spite of the rain and a nagging sore throat and headache I spent most of the time on the decks.   Lots and lots of waterfalls, a few dolphins and some seals. I may have overdone my video film of waterfalls, think some serious editing will be needed. Good commentary from the Nature Expect, not intrusive, just pointing out a few interesting things.  Sail assisted part of the time which was a bonus and Gareth was able to meet up with his Russian friends again as they were on the same cruise.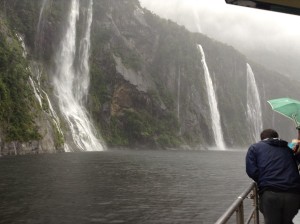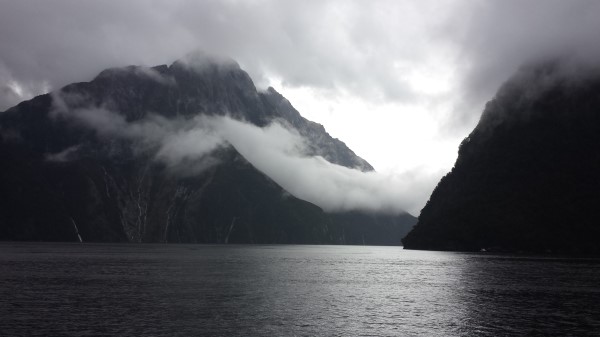 After a couple of nights at Te Anua we headed to Wanaka and another Lakeiew camp site, which was ok but facilities were a little tired.  However we could see the lake and mountains.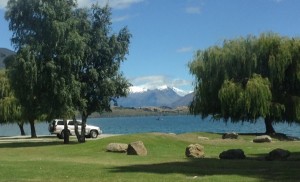 Mountains in the background were apparently the backdrop for Gandalfs flight from Orthanc on Gwaihir – didn't see any giant eagles though.
Siobhan and I both quite unwell now.  I was keeping a close eye on weather forecasts and could see a small window of good weather when a glacier trip might be possible.  I was in touch with a couple of the Glacier tours companies as Gareth wanted to take his violin to play on the Glacier which made good weather even more important.  
The drive from Wanaka to Haast Pass was beautiful, lakes and mountains (helped by some sunshine).
A short drive, another lake another mountain. (Music, Anthem by Emancipator)
Haast Pass was open during the day,  though down to one lane where the major landslide was.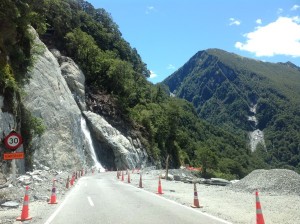 As the weather forecast was looking good for the morning I booked Gareth and Keith into an early glacier tour with Fox Glacier Guiding, they sounded quite excited about having a violinist playing on the glacier.  Sadly realised that Siobhan and I would have to miss out as we were now too ill.   However we did manage to enjoy a few stops along the way. The first by a river and waterfall, then some great views of the coast and an amazing beach.
The sand was grey,  there were piles of pure white stones and the  beach was  covered in huge pieces of driftwood, whole tree trunks. They were all bleached white, is this where trees go when they die?
Glaciers
Booked into a good campsite in the small town / village of Fox Glacier in easy walking distance of the tour base. The actually village isn't large and there was a lovely short rain forest walk near the campsite (Minniehaha  Walk).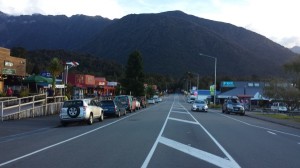 Gareth and Keith set off early next morning, blessed with perfect weather for their Glacier Hike.  They both said it was amazing and Gareth got his wish to play violin on the glacier.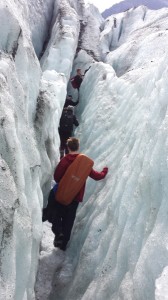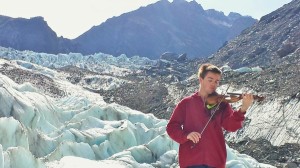 The caravan park owners kindly let Siobhan and I wait there with the van for Keith and Gareth to return and after debating whether to just stay a second night we decided to make the short drive to Franz Josef .  Fran Josef is a bigger town than Fox Glacier but as the Fox Glacier people had been keen to tell us the Fox Glacier is bigger than the Franz Josef one.  Well I was in no state to go and measure them did ask about helicopter flights for the next morning but they are expensive and the weather forecast wasn't great.  There is a Kiwi breeding centre in the town, breed a particularly rare kiwi the Rowi.  We booked into the rainforest park, which is very large, the sites are small but surrounded by rainforest.  Showers with real shower screens (a rare luxury) but there were only 2 supplemented by some temporary ones and signs saying more are to be built.
Sure enough the next morning was cloudy with a little rain, we decided to move on back up the coast stopping at Hokitika.  This is a pleasant beach side town, definite holiday feel to it but our main reason for stopping was the National Kiwi Centre.  The name may make it sound grander than it is but this was certainly the most reasonably priced place we found to view Kiwi's.  There was a selection of other native New Zealand creatures, Tuatara (lizards), we were told one of these is 21 years old and the female was pregnant .  There were frogs, fish and a large tank of giant eels, some of these are 120 to 130 years old and the oldest (Grandma) can be recognised by the extra kink in her back due to arthritis.  Poor old girl, maybe she should take fish oil!  Finally we went into the dark room, home to 2 kiwi's.  Saw  the female briefly walking across the back of the pen but she hid in one of the boxes.  Waited for quite a long time, eventually a keeper came out and tempted the male kiwi out with some food.  They are quite unique, I was surprised how large they are and they have an unusual gait. The keeper explained afterwards that they had put a new piece of fence in the middle of the pen which was shiny and the kiwi's didn't like it so were being extra shy.   Anyway we were very glad to have seen them, very special.
Arthur's Pass (for the second time)
This time we had good weather and were better able to appreciate the views and spectacular scenery.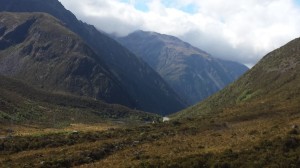 Stopped for a walk at Temple Basin.  This is another ski area, run by a couple of ski clubs, looked a interesting place to ski,  there is a goods lift to take equipment up the mountain but it seems you have to walk up to the ski area (information site says an hours walk).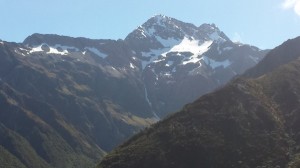 I assume that was the path we were on, a rough track zigzagging up the mountain, quite steep in places.  Being summer there were pretty little flowers and tiny mountain streams but there was still snow on the peaks.  Really beautiful.
Decided on a new business venture, we'll take over the post office at Arthur's Pass.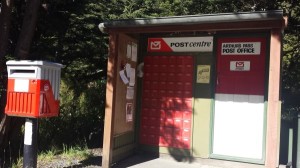 Our final free camp for the trip was at Lake Pearson, ahh lake, mountains, a grebe, few ducks…perfect.  This felt like the end of our campervan adventure (though we still had one night in the van in Christchurch to go).
After a night of being rocked by strong winds we drove on to Christchurch.  Didn't go into the city itself straight away.  Instead we went out to the coast, first New Brighton and then through the tunnel to Lyttleton.  Lyttleton is a port town with steep roads and in 2009 was granted  Category I Historic Area status.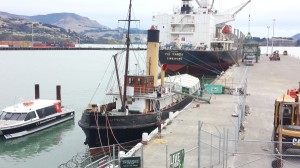 It was badly hit by the 2011 earthquakes and many of the historic buildings were destroyed.  We found a makeshift pub in  shipping container with live music and good beer, then another shipping container serving as a fish and chip shop.  Chatted to some of the locals.  We had already gathered that many people are still waiting on repairs to houses.  One lady told us she had got her home repaired now, she had been fortunate in that she had been able to rent a pleasant place out of town until the work was done but not everyone is so lucky.
Our final night in the campervan was in a caravan park near the airport and the depot where we reluctantly handed back the van the next morning.  (Though we did check out another van for our next trip!).
From the depot we took a taxi to our hotel which was right in the centre of Christchurch.  It was actually quite hard to get to as roads were closed and traffic was being redirected.  Our driver explained that it is impossible to keep on top of which roads are closed as work is going on all over the city so driving around is quite a challenge.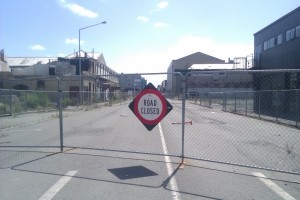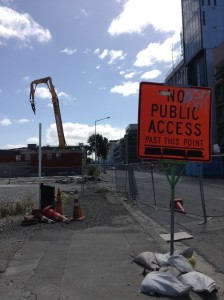 Our hotel booking came with an invitation to view the structural engineers report, I guess that is meant to make you feel more confident.  From our balcony we looked into an arcade with the trams running through it.  There was one pretty street near the hotel with shopkeepers moving back into shops and café's open.  
In the other direct it was a different story. 
Exploring the city itself was an experience that is hard to describe.  There was so much damage, so many buildings demolished and vacant blocks left or fenced off unsafe and waiting to be demolished.  It felt subdued, a bit eerie like a movie set for a post apocalypse or zombie film.  Very hard to find places to eat, no good looking things up on the internet because they aren't there any more. Hard to think what is must be like for the people living with this for so long.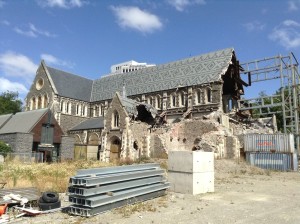 However there are many projects to inject life and colour into the city, coloured pieces are clipped onto the fences to make patterns, there are 'Gap Fillers" areas where they have used whatever they had to create something interesting or useful, such as the Pallet Pavilion with stage, bar, tables, walls all built from wooden pallets. Brilliant.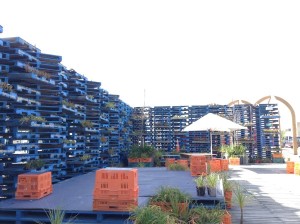 The restart shopping mall is made out of more shipping containers, brightly painted with coloured shade cloth.

Some people were understandably angry and frustrated that the repairs were taking so long.  Others explained to us how after every after shock and smaller earthquakes all the buildings have to be rechecked for safety again so it becomes a continual process of checking and rechecking.
On leaving New Zealand our overall impression is of a country with so much spectacular scenery, people who seem genuinely friendly and rightfully proud of where they live and in some ways it felt like we had stepped back in time.  As for the weather, well we were told it was it was the highest rainfall in January for decades but it really didn't spoilt our trip.  Just hope to get back there and see all the places we didn't get to this time.
One Lane Bridge. Music Hoppipolla by Sigur Ros.