Milan
Arrived in Milan to meet up with Siobhan on the final night of the orchestra tour.
Managed to negotiate the ticket machine for the bus from the airport to the city (after several attempts I finally found it accepted notes only if inserted completed the other way round to the instructions).  Then I found I could have just bought a ticket from the bus driver.  Still I did better than one of the other passengers who had first bought a ticket for the wrong bus.
Next to get from the city out to the hotel.  I had checked the trams but it looked like I might have to change and I wasn't sure where so thought I'd first check the price of a taxi.  Really pleased with myself, not only managed to check the price but also had a conversation in Italian on the 30 minute drive to the hotel.  Okay so I mainly said yes and no but I knew what we were talking about.
The hotel was a fair way out of the city, staff were nice, the room was tiny and basic but clean and cheap.  Met up with the orchestra and spent an entertaining evening with them.  They did their traditional ("well we did it once before") end of tour presentations.  Silly presents for orchestra manager and conductor and various tour awards (Siobhan got the award for being the quietest on the tour…"would you like to make a speech?…No?").
There was a protest march close to the hotel in the evening, more like a procession with band playing Bella Ciao, think it was to do with job cuts.
Next morning there were many goodbyes, some people were heading home and other heading to other countries or, like us, to other parts of Italy.
We took a taxi back to the city to catch our train to Florence.  The Central Station is huge more like an ornate shopping centre with a station in the middle of it.  I'd pre-booked the seats using the Italian site, they have a system of choosing not just first or business class but also choosing how flexible you want the fare.  So you can book a cheap business class seat if you aren't worried about being able to make changes.  I did have problems though as the site kept freezing or crashing when I was booking and I'd have to go back and start again.  I must have misunderstood something as I had booked our seats back to back so Siobhan was sitting with one Italian family and I was with another.  Oh well more Italian practice.
Florence
We were meeting Paul and Anne in Florence and their train from Pisa arrived at almost the same time as ours.  Set off to our hotel in the wrong direction!  Soon realised and found our way to Hotel Paris.  It is a short walk from the station (shorter if you go the right way).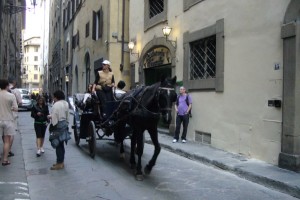 It is in the pedestrian area, I think this means vehicles have to have a permit to drive on these streets so it is a bit quieter.  The hotel is actually 2 renaissance palaces that have been joined and converted into a hotel.  When looking for somewhere to stay in Florence I wanted something that felt old and this was everything I had hoped for.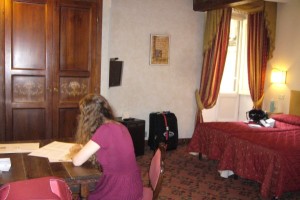 The rooms were quirky and definitely felt old and unique, though if staying there again I would probably pay the extra for a room with a view.  There were corridors with antique furnishings and even a glass staircase between buildings.  The staff were great and even though they spoke good English they patiently listened to my efforts at Italian and answered me slowly.  It is also in an good location, an  easy stroll to the Duomo (Cathedral).
We spent our 2 days in Florence walking everywhere.  Had to queue a bit to go up the dome of the Duomo but there was a gelato bar opposite so we could build up our energy before the climb.  In places it is quite narrow and as the way up is also the way down it was a bit of a squeeze at times but well worth it for the views over Florence.
Everywhere was quite busy but we had no problems finding places to eat lovely Italian food.  Took a liking to one particular leather shop and bought handbags, purses and a wallet.  Tried on a handmade coat in another and they showed us their workroom with all the different leathers where they could make me a coat in whatever colour / size etc I wanted.  Beautiful soft leather and actually very reasonable but beyond my budget.  Also resisted the temptation to buy gold jewellery on the Ponte Vecchio.  Should have pre booked tickets to the Uffizi Gallery, queues for that were just too long and we couldn't even managed to get tickets for the next day.
However there was only a small queue to enter the Basilica Santa Croce with impressive tombs of many famous people including Michelangelo, Galileo, Machiavelli and Rossini.
We just walked all round the city right up to Piazzale Michelangelo for another great view over the city.
Explored narrow streets, spacious piazze, and generally fell in love with Florence.

Rome   
Train to Rome was great except that I had again managed to book seats back to back, however there were empty seats opposite Paul and Anne so we were able to join them.
Paul's friend Giovanni kindly picked us up from the station and took us to our hotel.  Not an easy drive as he was trying to avoid the area's which are restricted and you need a permit to use, the hotel had promised a permit but he didn't want to risk a fine.  Eventually he had to go through the restricted area, fortunately it turned out that the hotel had organised his permit.
Hotel was nice and central so once again we could walk everywhere.  First did a little exploring of the area.  Tried to go into the Pantheon as it started to rain, a lot of other people seemed to have the same idea and we were just standing on a large group that didn't seem to be moving.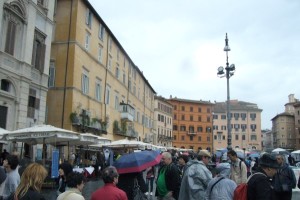 Eventually we decided to leave that till another time and walked on to  Piazza Navona and the Fiumi Fountain.  As the rain got heavier we a went into Sant'Agnese in Agone for our first taste of Rome's beautiful Churches.

In the evening Giovanni took us to a pizza restaurant for an excellent meal which we walked off by going to the Trevi Fountain.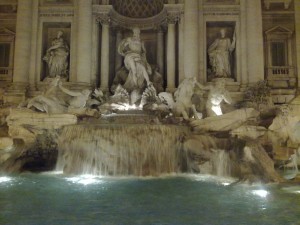 This was about 11pm but there will still plenty of people there.  Did our tourist bit of throwing in a coin so that we will come back….. (don't think this comes with a money back guarantee!)
Our second day in Rome and time to visit the Colosseum, however a useful tip is to go to Palatine Hill and buy the ticket there, it includes both the Colosseum and Palatine Hill but the queues are much shorter than at the Colosseum.
Palatine Hill is essentially an open air museum of buildings (ruins) and gardens, and includes the Roman Forum which used to be the business and government centre.  Walking around here is amazingly tranquil after Rome's busy streets.   Looking at the size of some of these ruins you can get a feel for the scale and grandeur of the site.
Could have spent longer there but eventually made our way to the Colosseum.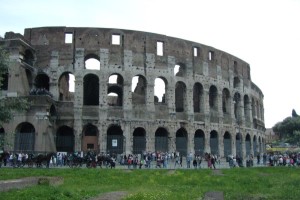 It is one of those places that you have seen so many photos of but is still very impressive when you actually get there.  As we had our tickets we didn't have to join the very long queues.  Walked up the steps wondering about all the people who had walked up those same steps over the years.  It is huge and incredible but the purpose of it is sobering.  Seemed strange that a society with so much culture and love of the arts could build something for such barbaric entertainment.
Vatican Museum, Sistine Chapel
& St Peters
On our final full day in Rome.  Hadn't pre-booked so joined the queue early for the Vatican Museum.  We were fairly near the front but had to wait for it to open, by which time there was a huge queue behind us.  Stopped first at one of their cafés overlooking gardens before tackling the Museum.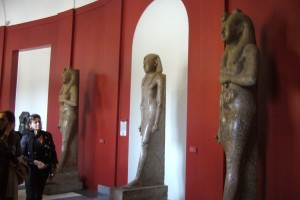 The Museum itself is huge, personally I found some of the early history parts of the museum very  interesting, the Etruscan and Egyptian Galleries and of course the Room of the Muses as well as the room of maps.  Though I did wonder how you navigate when your map is painted on the inside of a building!
Have to remember to look up at the ceilings all the time, and the floors as well.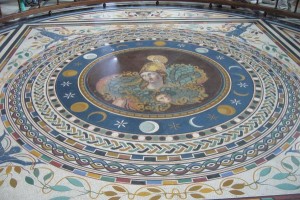 There are a few routes around the museum but as as we got closer to the Sistine Chapel it got more and more crowded.  I found it a little hard to take in so many magnificently painted rooms.  By the time we reached the Sistine Chapel, which is incredible I was rather overloaded.
Had to queue again and pass security to go into Piazza San Pietro and St Peters Basilica, they were also turning away people inappropriately dressed (sleeveless tops, short skirts etc).  Saw a couple of the Swiss Guards in their bright uniforms and the balcony.  The Basilica is of course impressive and the Pietà (sculpture by Michelangelo) is stunning. There was a queue for the lift which takes you part way up the dome so we opted to walk it.
Only 551 steps and the view is worth every one of them.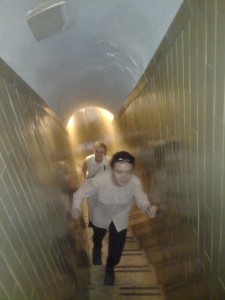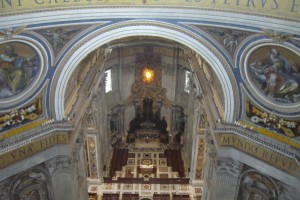 So our final day in Rome and off to the airport.   A brief trip but left us with many wonderful impressions & memories of this area of Italy.